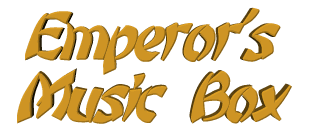 Welcome to the Emperor's Music Box. Here you can listen to all the music from the game Emperor: Rise of the Middle Kingdom by Sierra/Breakaway.
Operation is basically "hands free." This page will autmatically refresh itself every 240 seconds and play a new musical selection. If you don't hear anything for a while that is because some of the musical pieces are very short and long periods of silence will follow. Just be patient and it will eventually start a new musical selection or click the Manual Refresh button.
Your browser will need a player installed and associated with MP3 files in order to play these files.
Your game must be installed in the default "?:\Sierra\EmperorRotMK" directory on your hard drive. Click on the letter of your hard drive: C:, D:, E:, or F: