&nbsp &nbsp
CURRENT
&nbsp &nbsp
PREVIOUS




&nbsp &nbsp
REVIEWS
&nbsp &nbsp
INTERVIEWS




&nbsp &nbsp
FEATURES
&nbsp &nbsp
CHARACTERS
&nbsp &nbsp
BUILDINGS
&nbsp &nbsp
HINTS/TIPS
&nbsp &nbsp
CHEATS
&nbsp &nbsp
CAMPAIGN
&nbsp &nbsp
EDITOR FAQ
&nbsp &nbsp
TECH FAQ




&nbsp &nbsp
SCREENSHOTS
&nbsp &nbsp
SKETCHES
&nbsp &nbsp
GAME ART



&nbsp &nbsp
DEMO
&nbsp &nbsp
MOVIES
&nbsp &nbsp
MUSIC
&nbsp &nbsp
UPDATES
&nbsp &nbsp
GOODIES




&nbsp &nbsp
GENERAL


&nbsp &nbsp
PURCHASE
&nbsp &nbsp
FAN SITES
&nbsp &nbsp
OTHER





(September 5th, 2000)
The First Tomb (Dier el Medina 1)
35 Culture

40 Properity

65 Kingdom

Small Royal Burial Tomb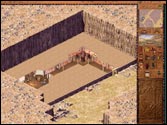 This is the first mission in Cleopatra, and it is also your first opportunity to use the new tomb industries to construct a Royal Burial Tomb in the Valley of the Kings. Begin by populating both sides of the river. Since most of the trade routes are by water, you will need to construct several docks on the right side. A ferry crossing will of course be necessary to link the settlements. The left (west) side will be needed for fields of chickpeas, flax and henna.

Establish clay pits and flax fields so that you can produce plenty of pottery and linen for export. Pottery is also be needed by the lamp makers and clay by the artisans so don't skimp on clay production. It's a good idea to open a trade route with Pwenet early. Being a land trade route, it also will not tie up your longshoremen. You will find that linen and paint are also lucrative exports. Sawu will become available to trade with (it will buy excess henna you have and also sells oil) if you send the linen it needs.

To get the tomb industries underway, plant a few fields of henna. Once harvested, henna will be used by paint makers to produce paint. You will need to build lamp makers to produce the all-important lamps. Lamp makers need a supply of oil, which can only be imported from a trade partner. Once you have paint and lamp industries up and running you will be ready to begin excavating the required tomb monument.

To begin the tomb monument, select it from Religious Structures: Monuments menu and move its green "footprint" over the cliffs to find a suitable place. There are two possible locations for this mission's tomb - both in the southwest portion of the map. If you are playing this in the campaign, this mission's completed monument will be carried over to the next mission. Keeping that in mind, it might be best to consider building Thutmose's tomb in the southernmost location, so that the location closer to the valley's entrance is reserved for Tutankhamun's tomb in the following mission where time is of the essence. Placing the tombs this way will probably save your tomb workers some time when excavating Tut's Tomb.

Once the tomb's site is selected its construction can begin. Tombs require the services of stonemasons and artisans. Artisans' Guilds need a supply of paint and clay to function. Ensure that Work Camps are also located nearby so that labor is available to deliver lamps to the tomb. Once there are enough lamps to provide light for the tomb workers, the stonemasons and artisans will begin their work. Always make sure the workers have enough lamps to continue construction.

You will only have to meet Culture, Prosperity, and Kingdom ratings in addition to completing a Small Tomb. Culture is 35 and Prosperity is 40 so these will be relatively easy to attain. You will have to be sure to meet requests and stay out of debt if you are to attain your Kingdom rating requirement of 65. Pace yourself, as there are plenty of flood plains to farm on, no time limit, and no military activity.

HOW TO PROPERLY PLACE A TOMB
There are 4 sizes of Royal Tombs in Cleopatra - Small, Medium, Large, and Grand. All 4 types of tombs use the same principal for placement indicative of the color of the footprint (as with all other buildings) - green versus red. In order to properly place a tomb, the entire footprint must be green. For the most part, you will want to align the front of the Tomb (side with one tile that protrudes from the otherwise rectangular footprint) with the straightest part of the cliff you can. The rest of the footprint should be in the cliff. You may find the Hide Cliffs overlay to be an invaluable tool in the placement of Tombs. Below you will find examples of valid and invalid placements of Tombs.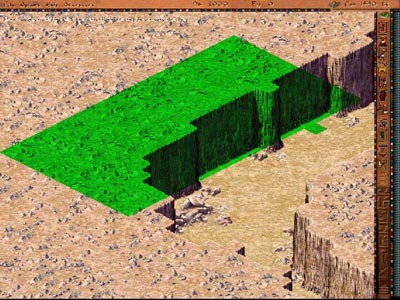 Valid Placement (Small Tomb pictured above) - Entire footprint should be green and the entrance tile (lower right corner) should protrude from a flat/straight portion of the cliff.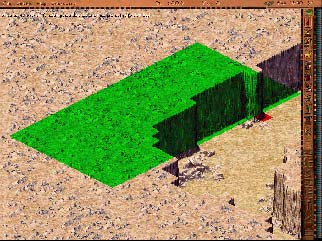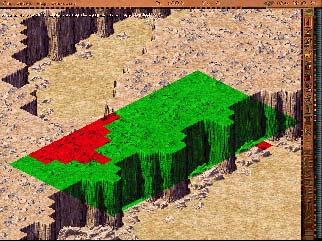 Invalid placements (Small Tomb pictured above) - Notice the entrance tile is red and is not placed on a flat/straight portion of cliff (left). The presence of red in any part of the footprint means the alignment of Tomb and cliff is invalid (right).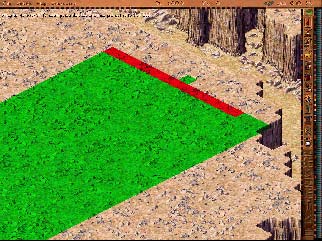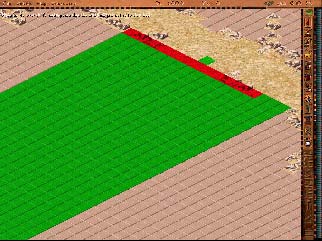 Invalid placements (Large Tomb pictured above) - Use the Hide Cliffs overlay to aid in the placement of Tombs. The red in the footprint is ambiguous from this view (left), while with the Hide Cliffs overlay activated it is clear why the placement is invalid (right).

Also, know that Artisans, Stonemasons, and Lamp Sled Pullers will all find their way to the Tombs regardless of whether their respective buildings are connected to the tombs by road. They are point-to-point walkers, and thereby do not depend on roads to get to where they are going. You may wish to place any of their respective buildings closer to the tombs that they are working on to shorten the time it takes for them to reach their destination, but otherwise proximity and connectivity is not necessary.


[ P R E V I O U S &nbsp | &nbsp N E X T ]